Contact us
Company£ºSHENZHEN PENGLAI Industrial Corporation Limited
Factory Address£º B406,third floor,Dongmanjidi ,Yijing Road,Luohu district,Shenzhen City, China
OFFICE ADDRESS£º Block A2, First floor,Chaolian Building,838# by 105 National Road,Panyu District,Guangzhou City,China
Contact£ºJack Du
Cel£º +86-15811882441
+86-13077872898
Phone£º +86-20-84206097
+86-755-25423447
Fax£º+86-755¡ª25417648
Email£ºjackdu999@yahoo.com
Skype£ºturnanewleaf
Website£º www.penglaichina.com

capping machine
Portable Electric Hand Held Bottle Capping Machine Bottle Cap Sealer semi automatic simple capper
Hand-held electric Capping Machine is portable for easy tightening and loosening varied bottle caps. The adjustable clutch can effectively avoid the cap damage and reduce the wear and tear inside the plug. Once the cap is fully tightened, the capping machine will automatically stop.
The Portable Electric Hand Held Bottle Capping Machine Bottle Cap Sealer semi automatic simple capper equipment include: host, aluminum capping head and buffer.

Basic parameter of electric capping machine:
diameter£º§¶10mm-§¶60mm(the capping machine can be customized)
Supply power£º¡«220V±10%£¬Speed£º25-30bpm
output torque £º1.7-4.0 N.m
Roting speed£º650 r/min
suspended weights£º0.6-1.2 Kg
For the buyer who use 110V standerd power supply,you should use a transformer which convert 110V to 220V to match with this machine,or it can't be used.
The following payment methods are acceptable by us:
· Paypal
· Bank Transfers
1. All items are checked before dispatch and are carefully hand-packed by our in-house team. We will ship your purchase within business days since your payment has been cleared.
2. All items will dispatch from China directly. Delivery will arrange only from monday to friday. Weekend, public holiday or stated holiday in China will not arrange delivery.
3. Standard Parcel to wordwide will takes 7-10 working days and fully trackable on line.
4. Buyer's contact number and shipping address must be added accurately for item dispatch to confirm safe and quick delivery.
5. If you need delivery to your work address or other mailing address , please email us before we dispatch the good(Monday -- Friday) only, we are unable to change delivery address after the goods have been sent out.
6. You should expect to pay any amount charged by the government in your respective country. This includes, and is not limited to, duties, taxes and any extra fees charged by the courier company. But generally speaking, we will declare the item at low value and marked as a sample or gift to help buyer to avoid this charges.
how-to about Handheld capping machine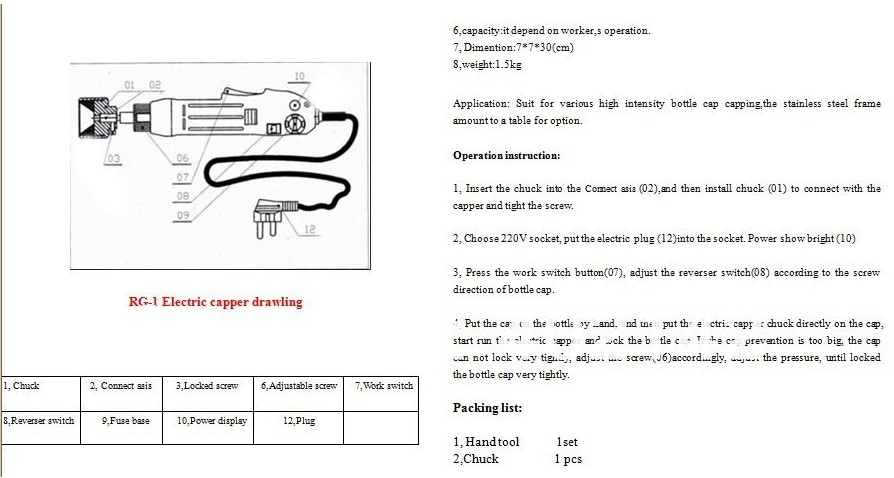 Operating Procedures:
(1) Directly plug in the 220V's 3-outlet power socket that connects with ground wire.
(2) Place the reversible switch to the required position (downward is forward rotation, upward is backward rotation, middle is for neutral).
(3) Insert the screw capping head into the main bearing mouth, and push it into the right place by positioning to the U-slot.
(4) Moving the moment adjusting collar to the required place(the moment increases in clockwise, otherwise decrease).
(5) Accurately position the screw capping caps to the screw and press the pressure lever switch, it will start.
Matters Need Attention
(1) This instrument must be used under a circuit that having a ground line.
(2) This instrument cannot be used in wet, corrosive and high-density dust atmosphere.
(3) To protect the breadboard and the electric motor, you cannot change the reversible switch that in operation. Or it will shorten the device lifetime.
(4) You should not dissemble the instrument in case of its failure within the warranty time, what is suggested is to take it to the appointed maintenance station, or you will take the consequences by yourself.

Our Factory since 1992 has been manufacturing the cosmetic&food making and packaging machinery.In these field we have the experience rich enough to solve the questions encountered by our customers from both home and abroad.For more information about various high quality machinery like Portable Electric Hand Held Bottle Capping Machine Bottle Cap Sealer semi automatic simple capper equipment ,please email via jackdu999@yahoo.com or browse our website http://penglaichina.com.
Follow us on twitter:http://www.twitter.com/jackdu007
Like us on facebook:http://www.facebook.com/jackdu999
Skype us by :turnanewleaf
Call us via:0086-15811882441
PENGLAI INDUSTRIAL CORPORATION LIMITED